And crazier. Markets were jammed this morning because… I have no idea. Retail sales for January – after seasonal adjustment – came in at -0.4% and December was revised down to -0.1%. Weather? Yes, it snows in winter. That's why there is seasonal adjustment.
The NDX, for example, promptly rallied 50 points in an hour and a half. The rally was led by hyper-valued retail darlings such as FB, TWTR and TSLA. Needless to say. Bonds were up a bit, though which is good. This chart of ECRI's Weekly Coincident Index shows that the economy is failing to accelerate as Japan syndrome tightens its grip.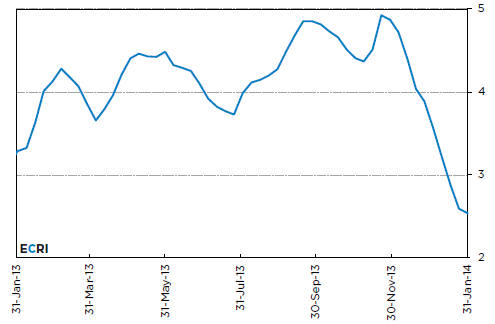 Yellenomics cannot be far off, as the Fed appears intent on making the same mistakes as the BoJ. Remember the government rule – if a policy is failing, put more money into it!